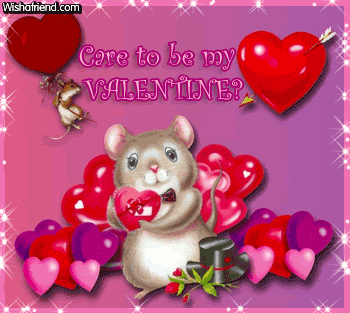 Myspace Graphics
,
Valentine's Day Graphics
at WishAFriend.com
Today Alan and I spent the day together for our Valentines date. James and Lydia watched the kids all afternoon/evening. We started the date out with...um-hum... well, we eventually made our way to Tulsa ~ lol! We spent the afternoon at our favorite date spot ~ Borders Bookstore. A couple hours later we were hungry for some dinner, so we decided to find a romantic spot to dine. After a couple different attempts at a few spots we like (one being closed down, the other having a 2 hour wait) we ended up sitting at the bar at The Wild Fork, Utica Square. It was actually very romantic. All the tables were reserved for guests that had previously made plans for dinner. The only open seats were at the bar. Reluctant at first, we decided that we probably wouldn't find anything better at 6pm on a Saturday night. Turns out, it was actually
very romantic
. Our bar stools situated so we sat so close to each other... the bartender always there catering to our every need... quiet and romantic. Delicious food. We loved it. After dinner we found ourselves back at Borders Bookstore again, because that's what we like the most. We sit, browse the books and magazines, sip on tea, and enjoy the peace, quiet, and anonymity. On our way home we decided to rent a chick-flick from RedBox to end the evening with... but it turns out after our peaceful relaxing Valentines date, we are so exhausted, we'll be in bed before 10pm. Ha! Figures. Oh well... at least we already have the movie for tomorrow night. Hmmmm... that should go perfect with a homemade heart-shaped pizza to celebrate the holiday!
Love to ALL!!!